[UPDATED ON JULY 2022]
There is no doubt that in today's world all manufacturing companies must make an effort to go green. In fact, the manufacturing industry lies at the heart of this initiative.
The problem affects particularly the production line, which is one of the most energy-intensive parts of the production cycle. The need to go green includes the tissue, paper and nonwovens production processes, which are prime candidates for a green retrofit.
Why go green? First of all, consumers want eco-sustainable products and are willing to pay more for them. In addition, climate change is an increasingly pressing issue that is upending weather patterns.
The time to act is now, which means a green retrofit is the next step in bringing your company into the 21st century.
3 ways green retrofits will help you save energy
Reducing energy usage is one of the best things any plants can do in this regard. These plants have traditionally used a lot of energy to perform operations like transforming raw materials into fibers used to produce tissue paper and nonwovens and laminating nonwovens to create high-quality material composites.
The motors that run the belts, unwinders, winders and other equipment are particularly energy intensive. With this in mind, what follows are the ways A.Celli can help your company save energy.
1. High-efficiency motors HELP reduce energy waste in manufacturing processes
An astonishing 74% of the energy consumption in the industry sector is due to the operation of electric motors. Many tissue, paper and nonwovens plants are still operating with legacy equipment and machinery equipped with motors that require high energy usage to operate.
Therefore, a green retrofit must start with the replacement of older motors with modern, high-efficiency ones. The use of these motors provides the following benefits:
Reduced magnetic stress

Bigger core assembly

Reduced winding resistance

Improved bearing and fans
Keep in mind that the cost of an electric motor over its lifespan is greater than the cost of the motor itself. Over the lifespan of the motor, the costs break down as follows:
0.3% for maintenance

4.8% for the initial purchase

94.9% for energy consumption
While it's true that an energy-efficient motor costs 40% more than the standard electric motor, its energy savings are so high, the result is the investment is paid off in 1.5 years.
It's also important to remember that maintenance on older motors can be challenging because it is often difficult to find the required parts for it, and keeping machines offline for an extended period of time will greatly affect production and ultimately your bottom line.
2. Industry 4.0 monitoring systems to be aware of your consumptions in real-time
Another important aspect is to ensure energy monitoring is part of a plant's green retrofit. The goals of this monitoring include:
Measuring electricity consumption

Measuring pneumatic consumption

Evaluating energy allocation

Conducting Big Data analysis
The best retrofit for energy monitoring involves taking advantage of Industry 4.0, which allows for the automatic, real-time monitoring of energy settings and other machine settings.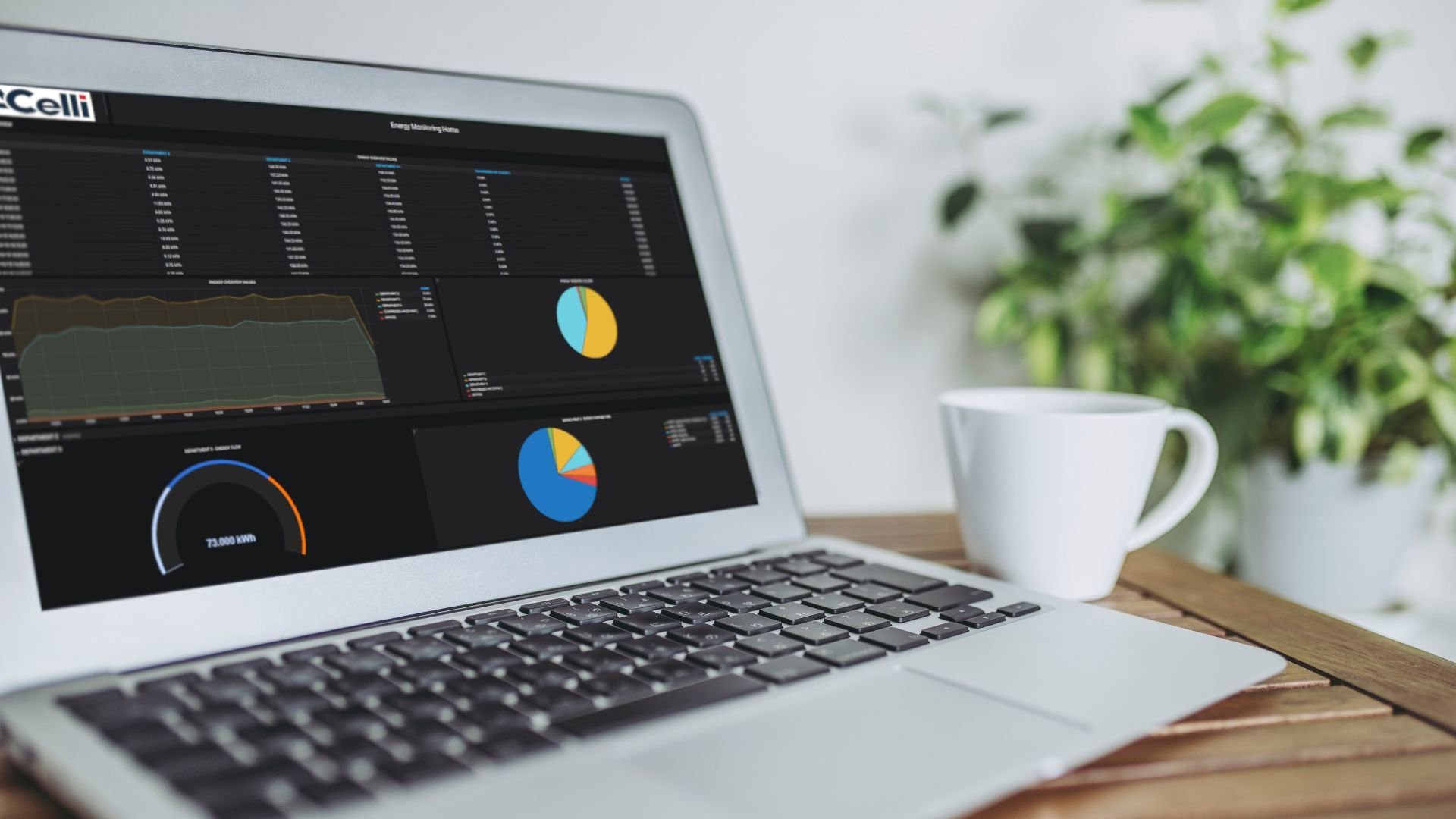 With this technology, it is easy to see which parts of the production line are using the most energy, analyze the production and look for a way to reduce energy usage where it is the highest.
A.Celli offers a robust energy monitoring solution that allows you to analyze and track your plant's performance, while maintaining an energy balance. You will be able to automate the adjustments of all machinery to run at optimal speed for a defect-free product while consuming as little energy as possible.
3. New drives FOR BETTER PERFORMANCE in your production line
A.Celli uses new inverters with regenerative rectifiers to drive the motors. These units allow the energy to return into the power supply line during the machine ramp down and it is this technology that lies at the heart of A.Celli's green retrofit for energy savings.
Recently, many inverter producers have released a new generation of converters that brought a profound improvement in performance, diagnostics and the overall results on the production line. The benefits of the new inverters include:
The choice between a stand-alone cabinet or a built-in unit

A modular structure

Easy maintenance

Increased versatility and performance
There is no time like the present to consider a green retrofit of your tissue, paper or nonwovens plant. With the technological leaps that have been made over the past few years, any company that doesn't perform a green retrofit and doesn't start using up-to-date technology risks being left behind.
Contact us for a technical consultancy and start improving the energy efficiency of your plant today!