Sinaatec, a new major player in the Algerian nonwoven industry, relied on A.Celli E-WIND® and R-WAY® end-of-line solutions for its two new Reifenhauser Reicofil Meltblown and Composite Bico RF5 lines.
The two 3.20 m wide lines, installed in Sinaatec's Algiers plant, aim to create new prospects for the medical and hygiene sectors in the North and Central African markets.
The A.Celli scope of supply for the RF5 Composite Bico line includes:
The line start up is scheduled for the last quarter of 2023.
The meltblown line, which includes an A.Celli E-WIND® STREAM IN-LINE slitting winder, is already operational since October 2022.
"It was a pleasure to share these pleasant moments with the A. Celli staff and our friends from Reicofil. This synergy can only be beneficial for our big project!" said Mr. Mohamed Lamine Boucelouche, Sinaatec CEO, after the recent visit to our headquarters to inspect the winding, slitting and packaging equipment before the delivery.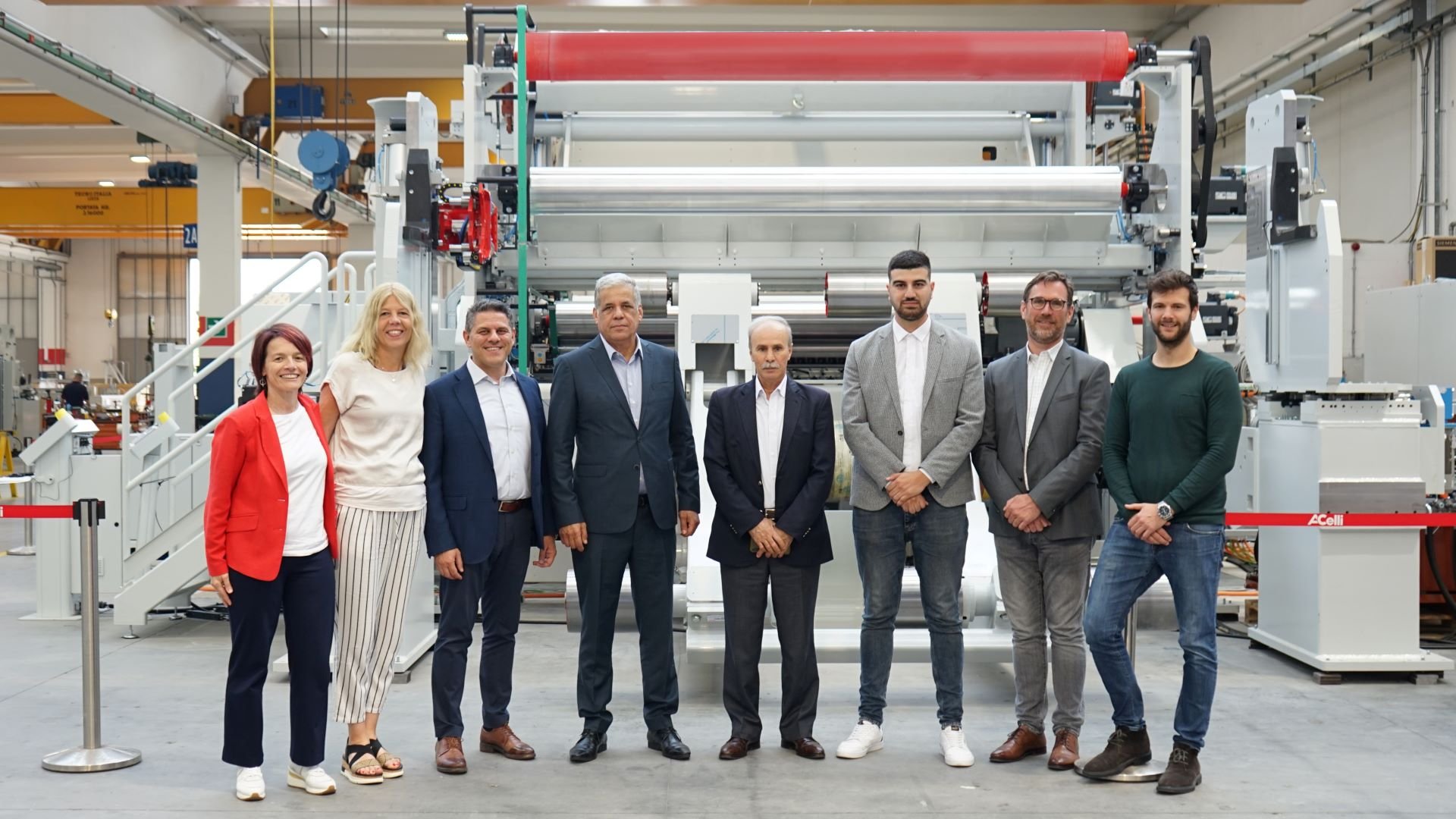 From left to right: Nicoletta Bertuccelli (A.Celli Nonwovens), Martina Wiedensohler (Reifenhauser Reicofil), Francesco Vergentini (A.Celli Nonwovens), Mohamed Lamine Bouchelouche (Sinaatec), Aougaci Sadek (Sinaatec), Oudjoudi Larbi (Sinaatec), Frank Stehling (Reifenhauser Reicofil), Riccardo Paladini (A.Celli Nonwovens)
reifenhauser reicofil – COMPANY PROFILE
Reifenhauser Reicofil is a leading global manufacturer of complete meltblown, spunbond and composite lines for the hygiene, medicine and filtration industries. Reicofil is one of the business units of Reifenhauser Group, a 100% family-owned company founded in 1911.
SINAATEC – COMPANY PROFILE
Sinaatec (Société Industrielle Algérienne pour les Applications Techniques) is a wholly owned subsidiary of the MADAR HOLDING Group. The company, established in 2017 and based in Algiers, is active in the manufacture of products derived from polymers and in the chemical, metal and glass industries.