The importance of ensuring the accuracy of the data related to the length of the reel produced.
Why is it important to certify your production?
Guaranteeing the accuracy of the data to the production process is a must that every production manager must ensure.
Driven by the increasingly pressing need to strive for production excellence, especially in a period like the current one in which we must try to reduce waste and costs, many companies, belonging mainly to the Tissue, Paper and Nonwovens sector, are aiming for a more proactive approach in the field of inspections.
This type of inspection consists of a repeated series of checks based on direct observations, audits and field assessments aimed at ensuring that the main activities related to the production process are carried out in the correct way using accurate data.
Speaking of data, one of the most important to guarantee is that relating to the length of the reel produced.
How can I know if the measurement data of the Rewinder is correct?
Calibrating the counter meter of the machine is the only solution.
The best calibration method is to use a contactless laser device, like A.Celli CMC Device, an unidirectional speed and length counter, in order to provide extremely accurate measurements in any production environment.
Web products, tissue and nonwoven materials, paper, plastic film and other products can all be measured using the Laser Doppler method.
A.Celli Counter Meter Calibration Device illuminates the surface to be measured with an interference pattern created by the intersection of two laser beams. The alternating light and dark interference fringes modulate the light diffused by the object with a frequency that is proportional to the speed of the object itself. This diffused light is detected by a photodiode and the electrical signal is digitally processed to determine the frequency and therefore the speed. The length of the object is calculated by integrating the measurement of speed over time.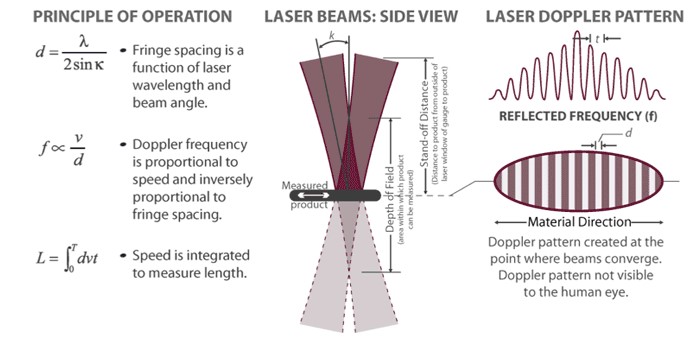 How can I guarantee extremely precise and accurate measurements?
A.Celli Counter Meter Calibration Service is an indispensable service to guarantee exact measurements. Performed with instrumentation subject to an annual calibration directly at the manufacturer's laboratories, it guarantees a measurement accuracy of more than 0.05% and a repeatability of more than 0.02%. The procedure requires the technician to make a comparison between the machine counter and the A.Celli CMC Device. If there is a difference between the two instruments, an adjustment is made on the length counting system on the rewinder.
An A.Celli Automation Engineer will perform the intervention directly on site in 10 working hours for each machine (5 hours of machine downtime are required for the rewinder). At the end of the intervention, a calibration certificate that can be used as collateral will be issued.
Contact A.Celli Customer Service now for a quick consultation or a dedicated project!